Justin Labato named as spokesman for Buff and Shine Manufacturing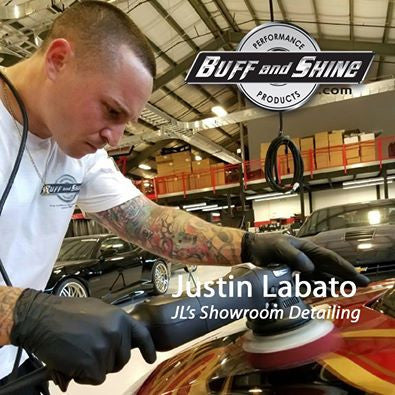 For Immediate Release
June 1, 2016
Rancho Dominguez, CA
Buff and Shine Manufacturing is proud to announce that it has retained the services of professional detailer Justin Labato of JL's Showroom Detailing. Labato will act as a spokesman to help both professional detailers and consumers correctly choose and use Buff and Shine's extensive line of professional buffing pads, with the goal of helping all users produce spectacular showroom-shine results during automotive paint perfection. Labato will provide demonstrations during popular trade shows (e.g., Mobile Tech Expo, Detail Fest, and SEMA) as well as assist in the production of "how-to" videos on the use of Buff and Shine pads with a variety of buffing and polishing machines. Moreover, he will be helping with new product development.

Justin Labato has been detailing full-time since 2008. He currently holds all certifications offered by the International Detailing Association (Certified Detailer, Skills Validated, Recognized Trainer). Labato was one of the hand-picked professional detailers to assist on the premier episode of Velocity Channel's new show "Competition Ready." He has worked on the respected Air Force One Detailing Team twice and contracts as a paint correction craftsman for several show-car companies and events, including Barrett-Jackson Auctions.

Since 1987, Buff and Shine Manufacturing has been producing a full range of high-quality buffing pads. The customer-focused company provides pads for all buffing and polishing platforms, including simple rotary; standard, long-throw, and gear-driven dual-action; and random-orbit machines.
---